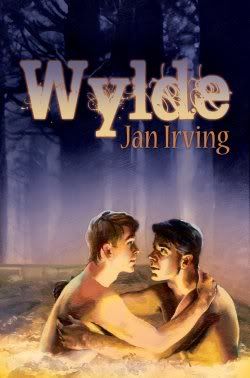 Wylde
Noah Matthews brought his son Josh to the pristine woods of Washington State to make a fresh start. The first night in their new home, Noah meets Kell Farraday when the laconic police chief shows up on his doorstep searching for two people lost in the forest. It's the start of a sexy new friendship when Kell decides to pursue the shy but flirtatious Noah.
But a new beginning won't be so easy. Noah's former boyfriend shows up to try to reclaim a place in his life, and worse, Josh is drawn to the growing mystery in the forest. People disappear and then one turns up dead. There's something haunting the forest. Something watching. And soft-spoken and confident Kell's reassurances can't ease Noah's fear when Josh goes into the woods alone.
Wylde
in
ebook
and
paperback
.
The entire first chapter can be read
here
.
Thanks to permafrost of Rainbow Reviews for reviewing Wylde and giving it five stars:
Escalating suspense, subtly inspired and reader-captivating, begins right away and keeps reader attention on the story, turning pages both to find out the "secrets" and to discover what will happen to Noah, son Josh, Chief Kell, and the other secondary, but not unimportant, characters.
The full review is
here
.
I have written a spin off to this novel. Hope to share more about that sometime soon.