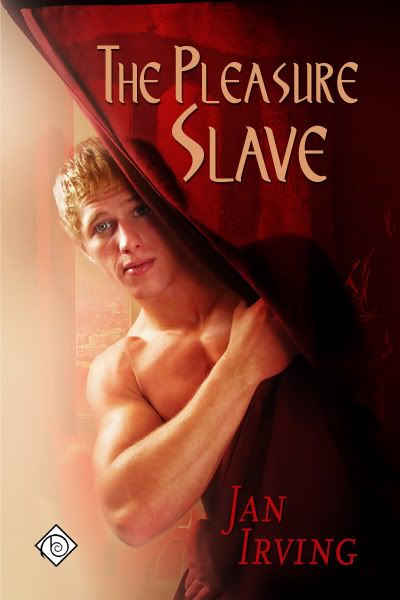 Lucius Mettelus Carbo, once a legate on the rise in the Roman army, rescues a beautiful young prostitute, Varick, who immediately stirs him. However, Lucius doesn't believe anyone could want him, a man cursed by the gods with an ugly, twisted leg. He resists his attraction to the pleasure slave as they forge a tempestuous relationship, and Varick tries to convince Lucius that he desires his master despite the injury. Both men are fighting their fears as they strive toward a future together… a future in the shadow of the volcano Mount Vesuvius.
Excerpt of The Pleasure Slave
Lucius asked, "You like men?"
"Yes," Varick admitted, eyes on his hands as he played with a rose he'd picked. "I used to meet with a boy in the fields."
Living vicariously, Lucius leaned forward. "What did you do with him?"
"Took him in my mouth." Varick tossed aside the rose in an impatient gesture and cupped Lucius's cheek. Lucius tensed, parting his lips to speak and Varick caught him, a gentle kiss, sucking Lucius's lower lip into his mouth, holding his gaze as he did so.
Lucius groaned and, unable to help himself, buried a hand in Varick's hair, like silken wheat to his touch. Ecastor! It felt so good, those lips on his, the teeth nipping him gently as if Varick had lain with him a thousand times and knew just how to make him burn.
Somehow Varick was lying on his back and Lucius crushed him into the pebble mosaic flooring, Varick's body a cradle for Lucius, his cock heavy, confined by clothing but insistent against Varick.
Lucius wanted to feast on him as he had not feasted on anyone since he'd been injured.
"You…" Breathless, wide eyes, Varick cupped Lucius's cheek. "You could have me now and in the morning I could wake in your bed."
Lucius blinked, pulling away, feeling like he'd been drowning like a lost bee in a jug of wine. "What?" he growled, fuzzy.
Varick's blue stone eyes looked up, captured him. "If you bought me, I could stay. You could have me whenever you want."
Purchase the ebook
here
.