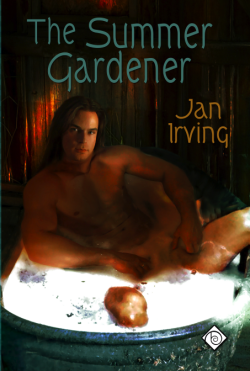 Alejandro Moreno had to drop out of college to take care of his Mama and younger brother Jose but fortunately he likes the outdoors, working with the earth as a seasonal gardener for the city. His life is blisters, cold Mexican beer after a long day of work and a stiff back so nothing prepares him for the unusual inhabitant of Autumn Grove, Fane, the real guardian of his alloted garden.

Despite their differences, the two men form a friendship based on restoring the neglected garden. But Alejo is troubled by his growing desire for another man, and someone who is not even human. Although Fane can spin some temporary magic to bring them closer, can this escape into an unfettered, lush world stand the chill of the coming fall, when Alejo will have to leave the garden in search of construction work?
It felt right to be working on this novella on and off all during the rich, hot days of summer since it's saturated with the garden world. I'm not sure I could have written it in winter time.
It is tentatively slated to come out in December from Dreamspinner Press.