My book
Mask
is out.
This book is truly beautiful. It has domino masks typeset into each chapter header and the cover art by Anne Cain is absolutely gorgeous.
If you'd like to read the first chapter and purchase it in ebook or print, click on the cover below: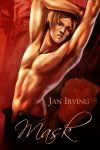 Remember that DSP has a special promotion to win an Itouch running this month and also that their popular anthology titles are 25% off. It's a good time to pick something up from the site.
I will be holding a raffle for a hand-made by me silk scarf. The details are
here
. And I decided to run this raffle on Friday sometime, this week. So to take part you need to pick up the book, you need to watch that live journal. The first person to answer a question found in the book will be the winner, not counting previous winners since I want everyone to have a chance.
To visit my site and see the excerpt, book trailer vid and more, go
here
.