Two books out this fall.
The Wanderer
and
Jesse
from Loose ID.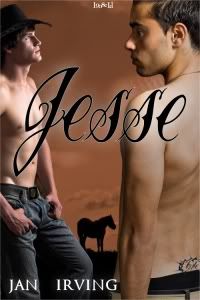 When Jesse Coulter roars up on a Harley one dusty afternoon back into ranch foreman Kyle Jacob's life, Kyle is confronted with everything forbidden he has wanted for years. Jesse is twenty years old, with a ruff of dark hair and blue eyes that remind Kyle of the heart of a lit gasoline flame yet Kyle can't let himself touch Jesse because not only is he too young, he's the brother of Kyle's lost lover.
To read an excerpt and purchase Jesse go
here

As the story grew to a close, I wondered just how the author would be able to finish the story and still stay true to the characters, especially Gabriel, but I should not have worried as she did an excellent job. The Wanderer is another great story that will leave fans of this author wanting more--Critter Nymph at Literary Nymphs.
Find The Wanderer here
.